You may not immediately think of gas line installation and repair when you think of professional plumbing services. In fact, not all plumbers even offer these types of services. But at Action Plumbing Company, we have your home or business covered from the ground up.

We're just a call away!
When your home or business's plumbing can't wait, Action Plumbing Company's licensed experts are on-call for 24/7 emergency service.
When it comes to installing, modifying, or repairing a gas line, it's important to call a licensed specialist. Our master plumbers have the expertise and credentials to safely and efficiently extend, replace or repair your home or business's gas line.
If you're thinking of making the switch from electric to gas appliances for example, be sure turn to your trusted professional plumbers at APC. We will make sure the job is done safely and efficiently. Our licensed master plumbers are specialized in gas line installation, repair and maintenance, and as such will treat your property with the respect and focus on safety you deserve.
Call For Service:
(770) 892-PLUM
Emergency Services
APC is there for you 24/7. No matter the problem, no matter the hour, APC won't rest until your plumbing emergency is remedied.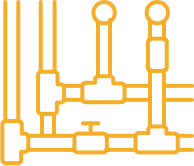 Pipe Repair and Installation
Whether it's whole-home repiping or general plumbing maintenance, the experts at APC are there for you—and your pipes!